OpenJaw Technologies Achieves AWS Travel and Hospitality Competency Status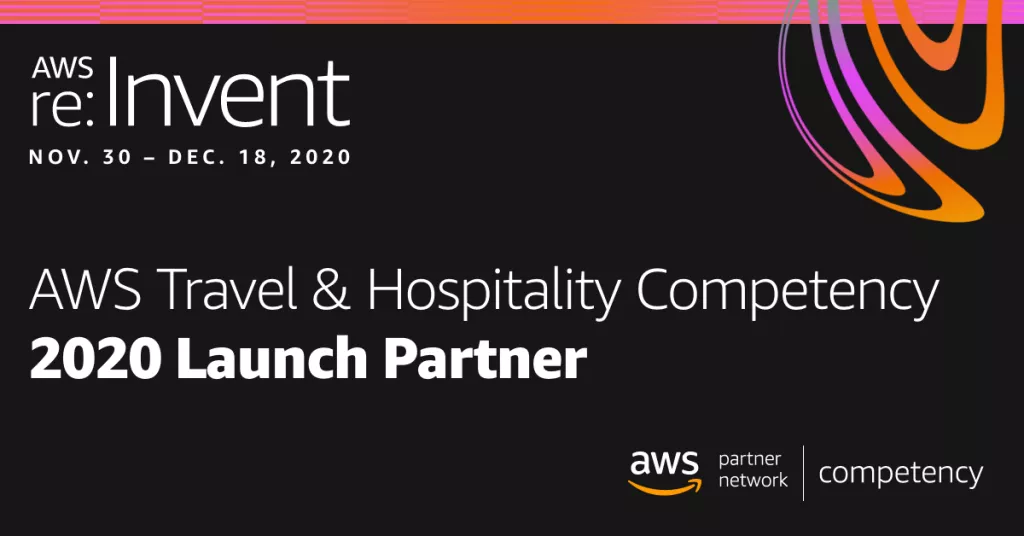 OpenJaw Technologies Achieves AWS Travel and Hospitality Competency Status
December 3, 2020 – DUBLIN, Ireland – OpenJaw Technologies, a leading technology provider to the world's biggest travel brands, announced today that it has achieved Amazon Web Services (AWS) Travel and Hospitality Competency status. This designation recognises that OpenJaw has demonstrated deep experience helping customers transform their business from behind-the-scenes operational efficiencies to guest-facing customer experiences. The launch of the AWS Travel and Hospitality Competency comes at a crucial time for the industry as it looks to innovate to address changing demands in the face of COVID-19.
AWS's global travel and hospitality practice helps companies of every size and segment – including airlines, airports, ground transportation, travel services and sellers, restaurants, lodging, entertainment venues and casinos, cruise lines, and technology providers – to stay agile and accelerate innovation. Now more than ever, AWS wants to help customers succeed by connecting them to partners with deep AWS experience, and a proven track record for helping travel and hospitality companies build resilience for the long run.
AWS launched the AWS Travel and Hospitality Competency to help customers find highly specialized AWS Partners and takes on the heavy lifting of identifying and validating industry leaders with proven customer success and technical proficiency.
Achieving the AWS Travel and Hospitality Competency differentiates OpenJaw as an AWS Partner with deep domain expertise in one or more of the following categories: Data 360, Digital Customer Engagement, Smart Assets, Core Travel and Hospitality Applications, and Consulting Services providing strategic guidance and deployment services
"OpenJaw is proud to be one of the first AWS Partners to achieve AWS Travel and Hospitality Competency status," said Kieron Branagan, CEO OpenJaw Technologies. "OpenJaw has been working closely with the AWS team since 2018. OpenJaw has been leveragusing the power of AWS to quickly and easily scale, reduce costs, improve security, and increase agility for global travel and loyalty customers such ANA All Nippon Airlines, Cathay Pacific, and COMAIR.".
"Now more than ever, travel and hospitality companies are looking to transform their business with AWS. To help customers make the right choices when finding the most qualified AWS Partner for the job, we launched the AWS Travel and Hospitality Competency," said David Peller, Managing Director, Travel & Hospitality, Amazon Web Services, Inc. "These AWS Partners are vetted by AWS for their technology capabilities and have a track record of success in the travel and hospitality industry and we are delighted to include OpenJaw Technologies in the launch of the AWS Travel and Hospitality Competency to help shape the way we fly, stay, eat, and experience the world in the years to come."
The OpenJaw platforms – OpenJaw t-Retail, OpenJaw t-Data and OpenJaw t-Social – use AWS Amazon Elastic Compute Cloud (Amazon EC2) to quickly scale capacity, Amazon Simple Storage Service (Amazon S3) for highly scalable, reliable, low-latency data storage infrastructure, and Amazon Elastic File System (Amazon EFS) for simple, scalable file storage. Additionally, OpenJaw use the Amazon API Gateway so that OpenJaw developers can create, publish, maintain, and secure APIs and Amazon CloudFront, the global content delivery network (CDN) service to accelerate delivery of OpenJaw customer websites, APIs and content through CDN caching.
Mario Dorion, Principal Enterprise Architect at Air Canada, said "It's been great to be involved with OpenJaw Technologies at the time they were transitioning to being a Cloud-first service provider. Their no-nonsense approach and adherence to AWS best practices provided us with the flexibility and agility we needed to succeed. They were easily able to support various test and production deployment scenarios and to easily adjust capacity in response to market conditions such as COVID-19 and pass us the savings."
AWS is enabling scalable, flexible, and cost-effective solutions from startups to global enterprises. To support the seamless integration and deployment of these solutions, AWS established the AWS Competency Program to help customers identify Consulting and Technology AWS Partners with deep industry experience and expertise.
–ENDS–
About OpenJaw Technologies –
OpenJaw believe that retailing is fueling a revolution in how travel is purchased. By adopting the 'retailing' mindset, OpenJaw customers such as British Airways, Iberia, Cathay Pacific, COMAIR, Hong Kong Airlines, Hainan Airlines, Sichuan Airlines, Shenzhen Airlines, Aimia, Air Miles, Asia Miles, Four Seasons Hotels, Avis, Color Line, and many others are experiencing spectacular success. OpenJaw has created the most powerful suite of platforms in travel retailing today: OpenJaw t-Retail, OpenJaw t-Data and OpenJaw t-Social.